Lately, we have been working on a new level of visual polish for Revn. Thanks to our community's support, we've been putting more resources towards art and animation.
This involves creating new character models and animations, and our partnership with Radical Motion has been key to our workflow. Radical Motion puts AI powered motion capture technology in the hands of indie developers like our team.
Let's take a glimpse at what the future of Revn looks like.
New Starter Skins
We're changing how character skins and loadouts work in Revn. Each Loadout will have its own Skin, giving players deeper customization. Fancy your Revenant as a hooded assassin? Equip the Locust Hood on your Loadout that includes Invisibility Cloak, Dash, and Viper Rounds. Alongside this new system, we're releasing three new skins, unlocked for all players. Each one will be automatically equipped on one of the starter loadouts that we prepare for new players. Of course, players will be able to modify these loadouts, and can customize the cosmetics associated with each.
First, lets meet Hornet. She'll be the default appearance for the Tank Starter Kit loadout.

Here's a quick turn-around of the character model (before we add textures).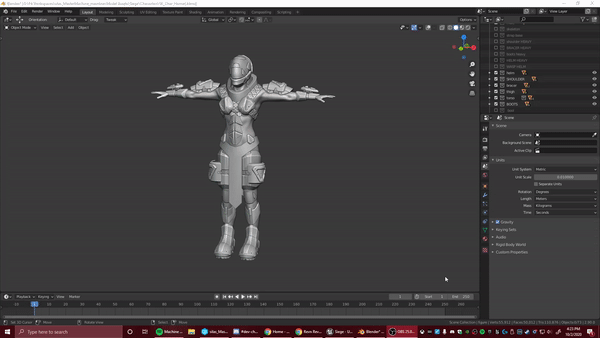 Next, we've updated the Spider character armor. He'll be the highly mobile, weapons-focused Ambusher Starter Kit's appearance.

The model for Spider is also finished, and is being textured:

Finally, we have Locust. This character skin will be equipped on the Caster Starter Kit, which uses abilities to deal massive damage and support allies.

Radical Motion Studio Tech Demo
We've been working closely with Radical Motion to create new animations for characters in Revn. Our new characters are built on an all new skeleton that is designed to use animations we can capture using Radical's software.
Watch our tech demo for Radical Motion Studio Pro: